bauhaus re-use:
chestnut and linden trees on a roundabout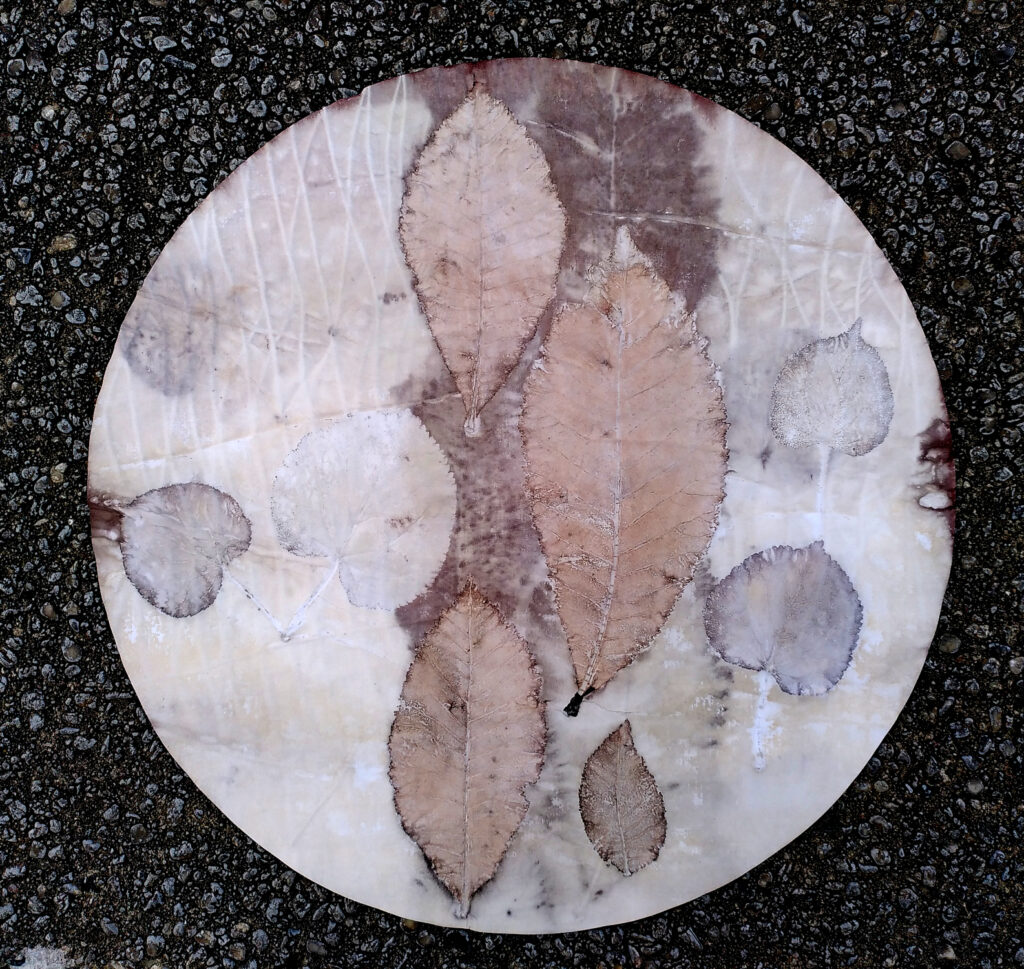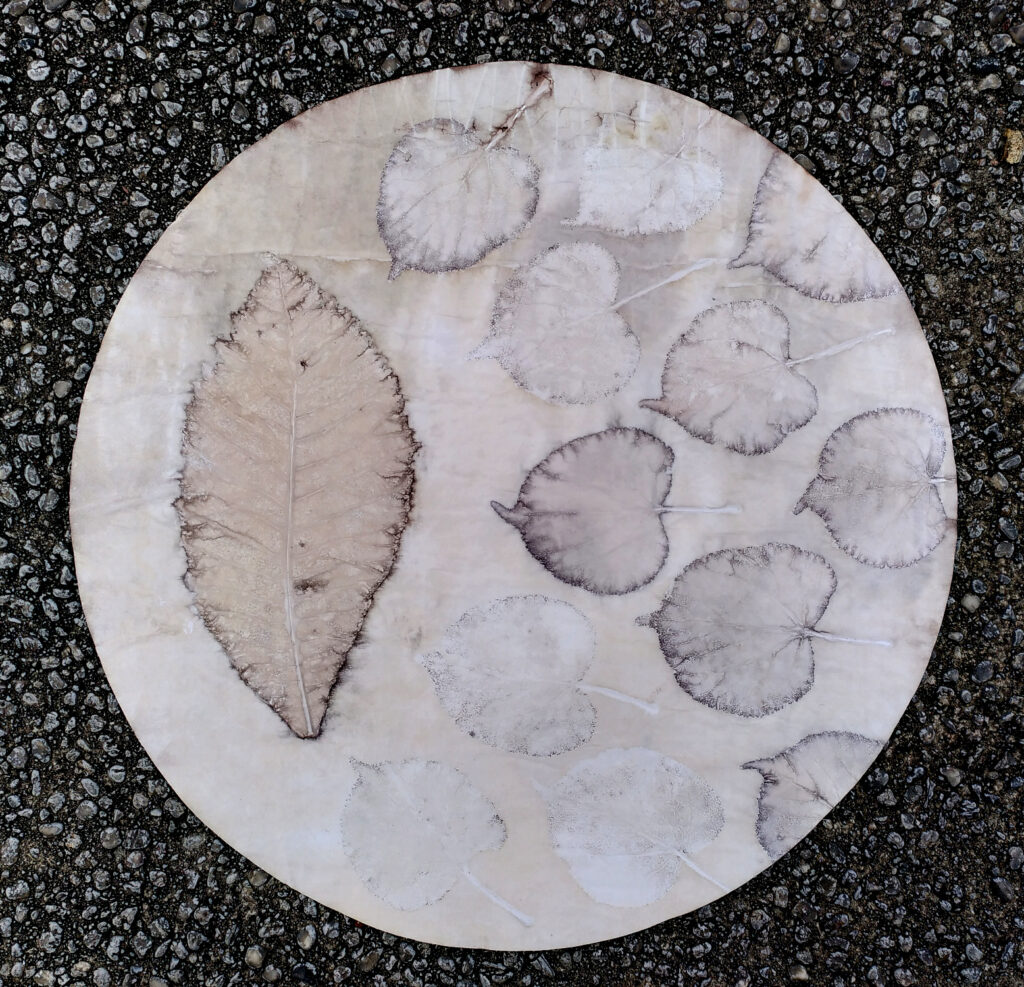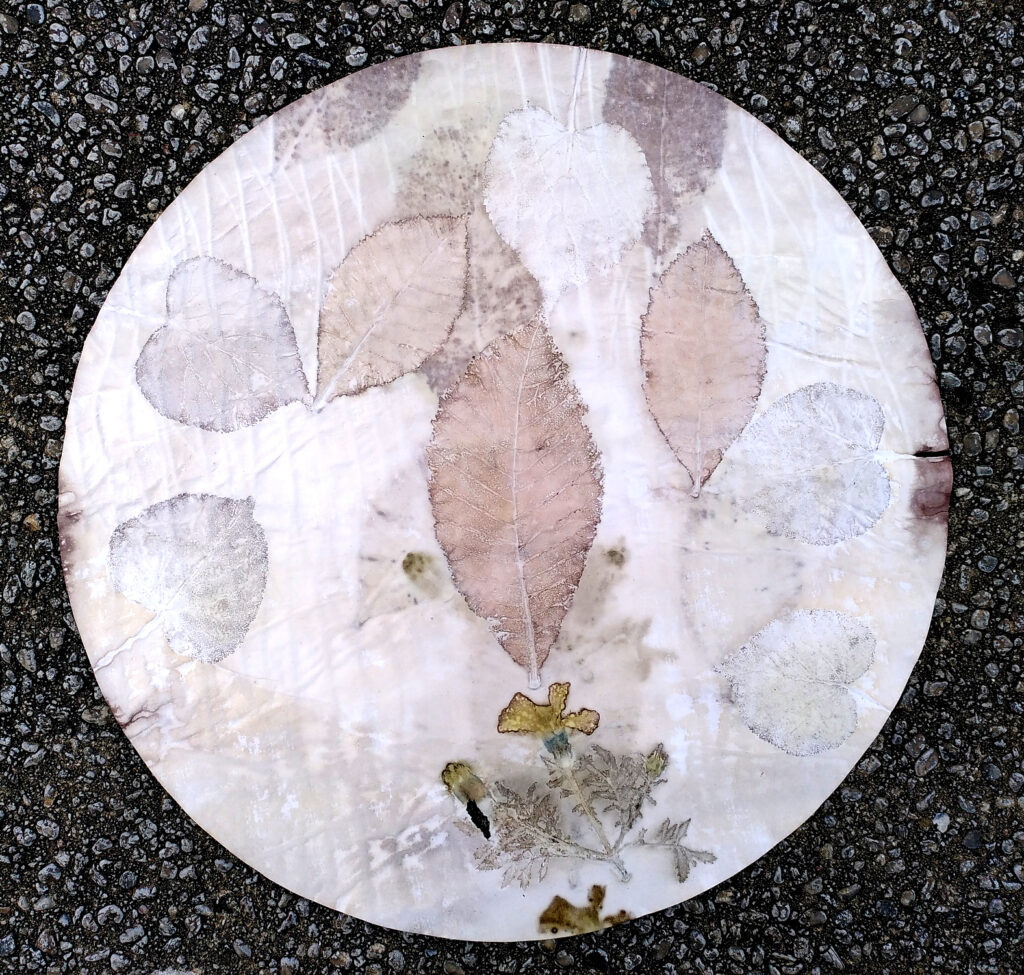 Ein kreisrunder Platz, eine große Freifläche, umflossen vom rauschenden Verkehr.
Autoorientierte Stadtplanung.
Relative Ruhe.
Aufgeteilt in Rechtecke, große Wasserflächen, verwilderte Blumenbeete.
Der gläserne Bauhaus-Pavillon. Reused. Ein neuer Impuls.
Bankfundamente ohne Sitzflächen.
Kleinteiliges Pflaster.
Nur eine einzige Unterführung aus dem U-Bahnhof ermöglicht den Zugang.
Wenige Menschen verirren sich hierhin.
Einige überqueren den Platz und verlassen ihn an der anderen Seite,
in der Rotphase für den Autoverkehr.
Rotblühende Rosskastanien in Planquadraten und die Miniermotte.
Winterlinden am Straßenrand.
Die große Sichtachse, zu Siegessäule, Brandenburger Tor und Fernsehturm.
Fotospot.
Der Wind lässt die letzten Herbstblätter zu Boden schweben.
trees in the grid of Ernst-Reuter-Platz 1, 2 and 5
botanic prints with horse chestnut leaves, linden leaves and marigold flowers in horse chestnut leaf dye on round paper,
35 cm diameter, 2020
mirroring leaves in a circular grid
Zine from botanic prints wiith chestnut and linden leaves and perforated steel plates on recycled artist paper, bound using chestnut leaf dyed silk yarn, 2020

Created during The Only Artist-Programm at Bauhaus Reuse Pavillion on the area in the center of Ernst-Reuter-Platz. Designed by the architct Werner Düttmann in squaregrids 8 chestnut and 5 linden trees grow on the center area of his square, circled by heavy traffic, defying the adverse conditions.