Hey, I'm Gudrun, an ecoprint and book artist.
Hey, ich bin Gudrun,
Ecoprint- und Buchkünstlerin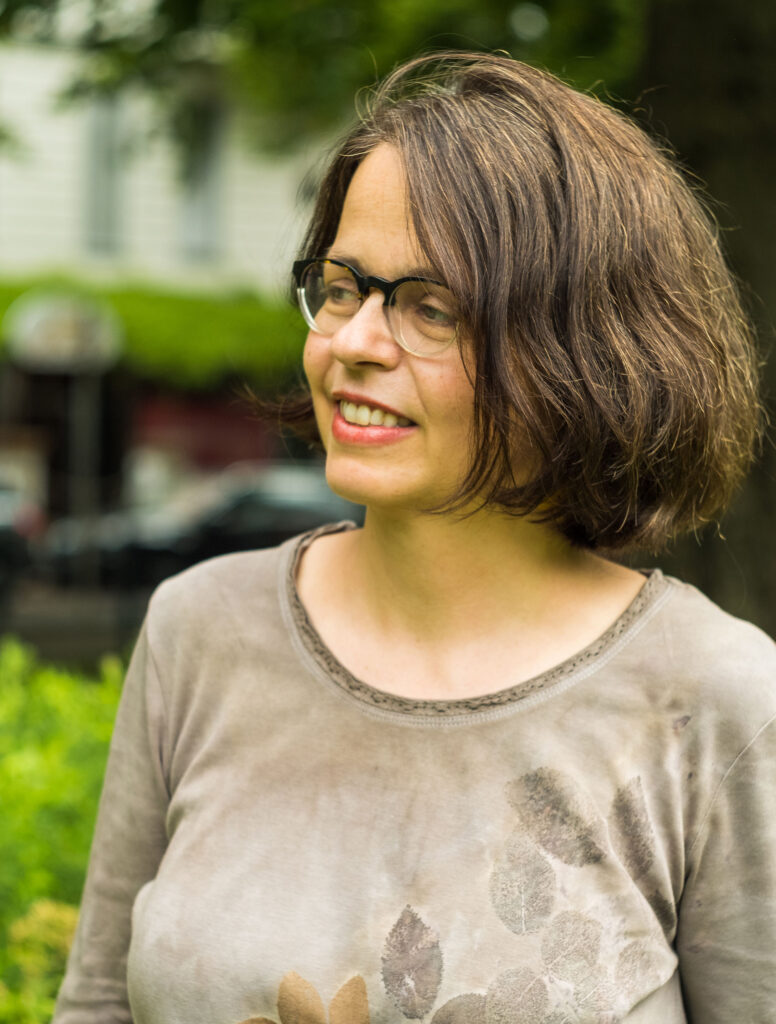 "When I walk down the streets of Berlin, I am always fascinated by how much the different trees shape the streets and squares …
They can tell us a lot. Since I started capturing this energy with my botanical prints, I've been much more aware of the plants in the city. "
"Do you also feel the longing to reconnect to nature?"
In me this longing steadily increased…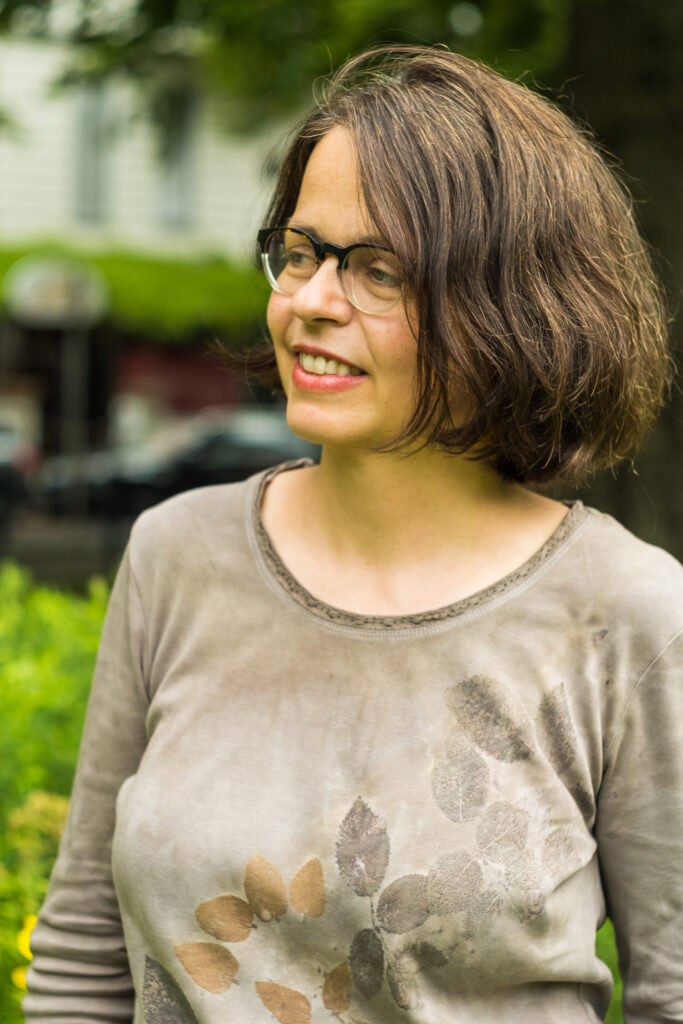 What drives me – artist statement
Drawing strength, energy and inspiration from nature my art practice mirrors my search for inner balance, healing and connectedness in our increasingly fragmented world.
Reflecting on our paradox relationship to nature I think on one hand we tend to romanticize nature.
On the other hand the anthropocentric perspective and capitalist growth paradigm have led to a dramatic loss of biodiversity, the climate crisis and a global pandemic.
In my ecoprint works I sense the trees' point of view. I collect their blown leaves and give them a second life by transferring their structures and inherent colours to fabric or paper in a process involving water vapour or a simmering plant dye bath.
I also juxtapose plant-talk to human influences such as geometric grids or letters and capture the essence of places or collective processes from the plant perspective.
By showing the beauty and fragility of plants in my prints I express my wish for more empathy for all forms of life and encourage to give more space to plants in our personal lives and our cities.
My bio
After finishing A levels in Berlin I studied Kiswahili and worked for one year as a volunteer staying with a grandmother in a remote village in Southern Tanzania. This lasting experience of connectedness and struggle made me study Agriculture and English in Berlin and Reading, UK. Following my love I moved to Indonesia, worked for the Goethe-Institute, learnt the language and became a literary translator from Indonesian into German.
Participating in printmaking and bookbinding courses inspired me to initiate creative book projects with kids in Jakarta and Berlin. After my own kids have grown I started to focus more on my own artist journey taking workshops in plant dyes and ecoprinting, diving deeper into a sustainable art practice.
Focussing on ecoprinting initially I arranged my foraged leaves mainly from an aesthetic point of view or examined perfection and imperfection in the multitude of leaf shapes. For some time now, I have been fascinated by collecting leaves and flowers in certain places and focussing on collective processes. I let the plants speak and expresses the felt energy in my compositions. I also depict human influences, often a threat to nature, for example through geometric structures or letters.
My works have been exhibited in Prinzessinnengarten in Berlin-Kreuzberg and within the project creative-anarchist urban escape chronicle at three art spaces along the U8 in Berlin. I have been "the only artist" having an open studio residency in the Bauhaus Reuse Pavilion on a roundabout in central Berlin during the current pandemic. I recently engage myself in designing and building raised garden beds in public space also giving room to neighbourhood exhibitions. In the second week of April 21 my works created at Bauhaus Reuse Pavilion will be exhibited there.