ONLINE-COURSE: "MAKE YOUR OWN ECOPRNT-JOURNAL"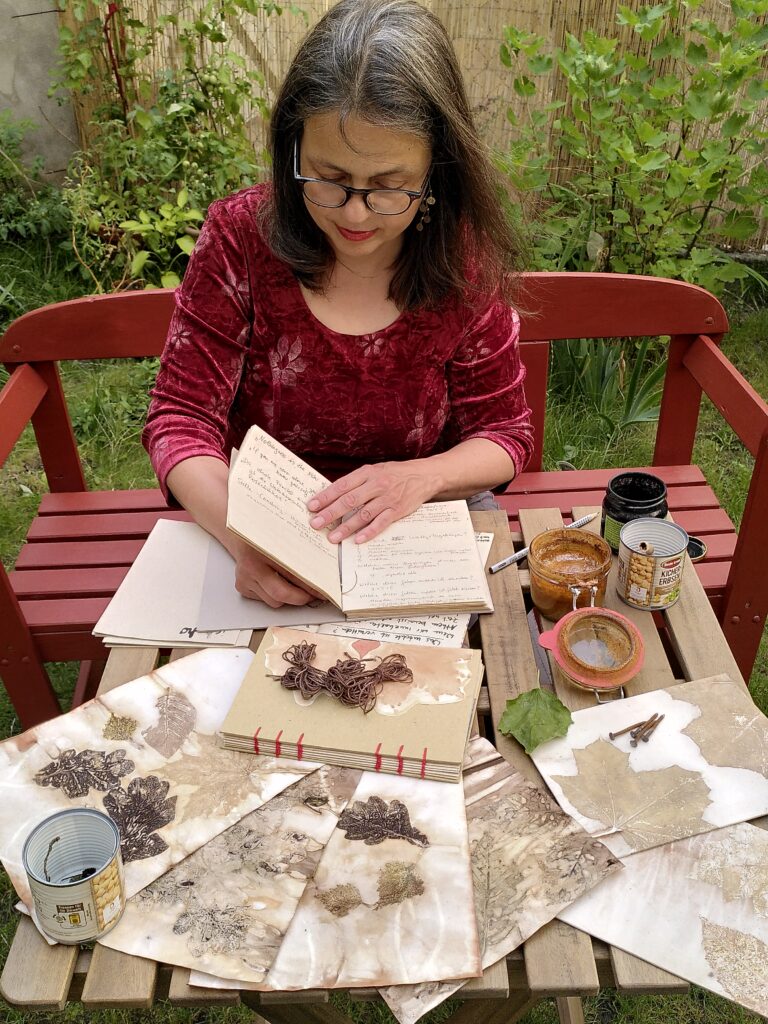 Feel like making your own journal, diary or sketchbook,
to design it with the leaves of your favorite tree
and to write with self-made vegetable ink in it?

 
Here is your opportunity:
We meet four times via Zoom in a small group.
And this is what I offer:
knowledge about trees and finding the tree that empowers you
you will learn the ecoprinting technique
you will make your own plant ink
we practice nature inspired intuitive writing on grass paper
you will design your journal hard cover and learn the century old coptic binding with two curved needles
I will send a kit with materials to you beforehand. We will spend some quality time of learning and mutual sharing together. I can't wait to start this course with you!
Modul 1: about the power of trees and printing with hot steam
I will tell you interesting and magical things about red beeches, English oaks, Norway maples, silver birches, winter linden trees, field elms, horse chestnuts and walnut trees. In the next few days everyone will explore to which tree you have a special relationship and collect a few of its leaves.
I'll give you an introduction to the basics of ecoprinting. From rusty nails we produce the rust water required for printing and, inspired by nature, we write on grass paper and share this experience.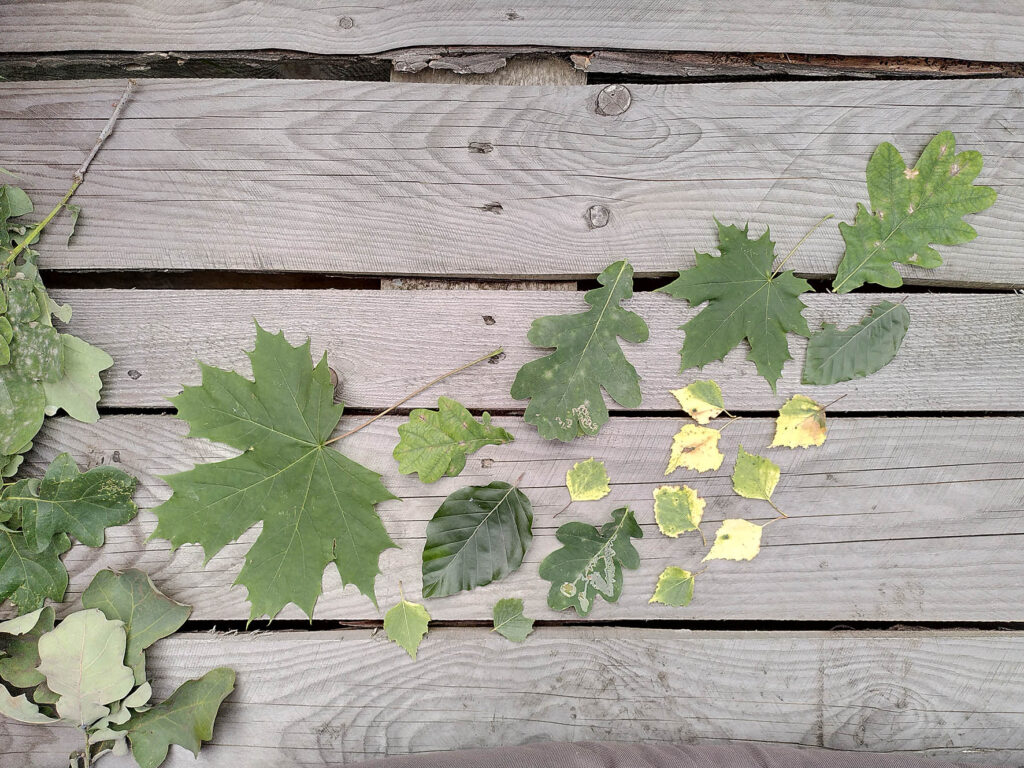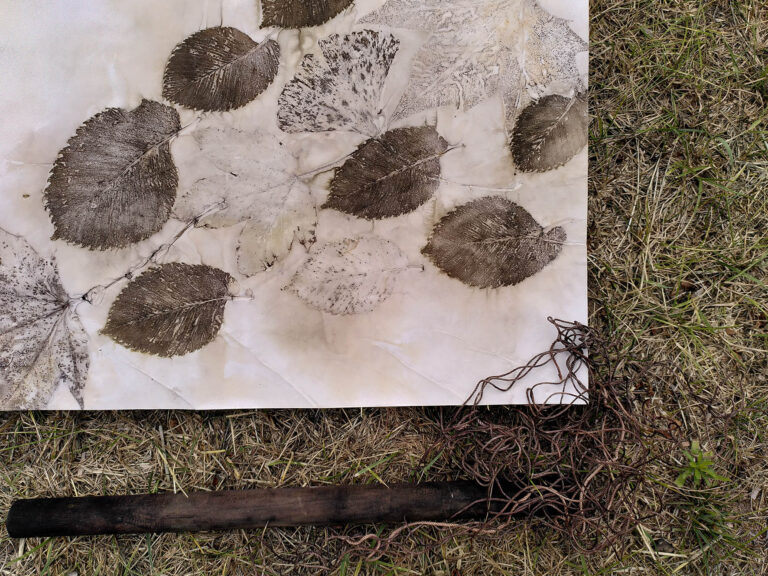 Modul 2: printing the covering paper
We exchange ideas about the search for our power tree and reflect on our perception of plants.
We print the paper, which will be attached to the book cover of our journal, with the chosen leavess and let it dry. Also we dye the end papers and prepare the plant glue.
Following a further inspiration of nature, everyone writes for him/herself and whoever likes, shares the experience of writing with the group.
Modul 3: book cover and plant ink
We will iron the cover paper, glue it onto the book covers and press the book covers with the help of screw clamps or heavy weights.
We fold the signatures  for our journals.
We simmer our own vegetable ink and write with it, then share experiences.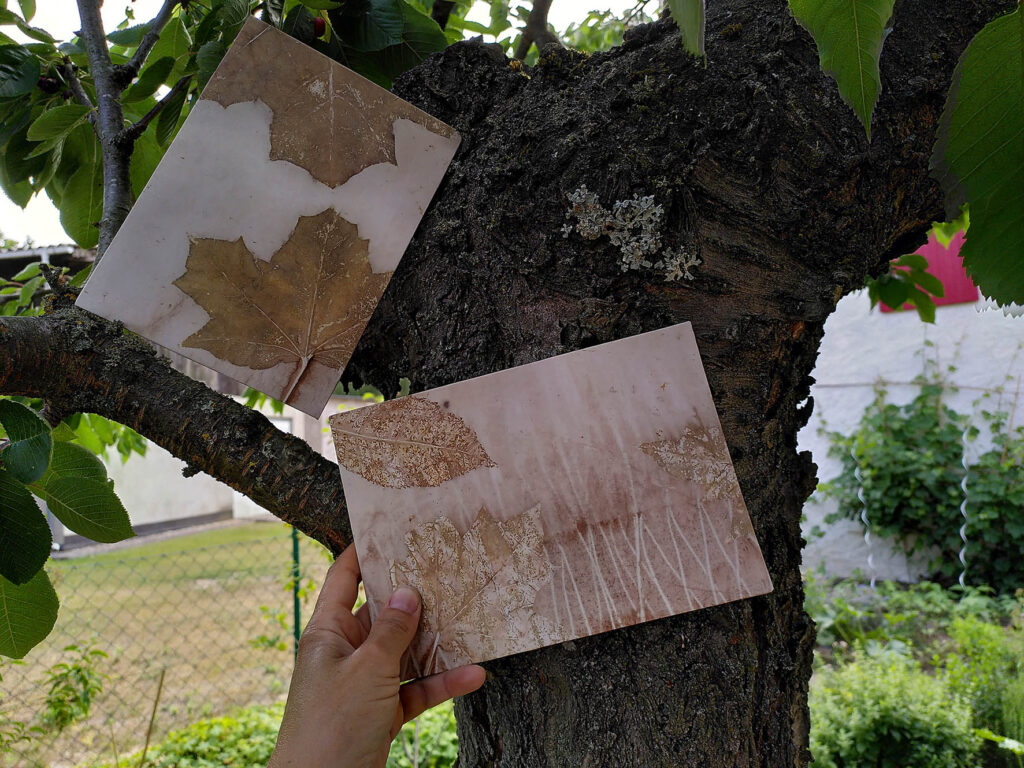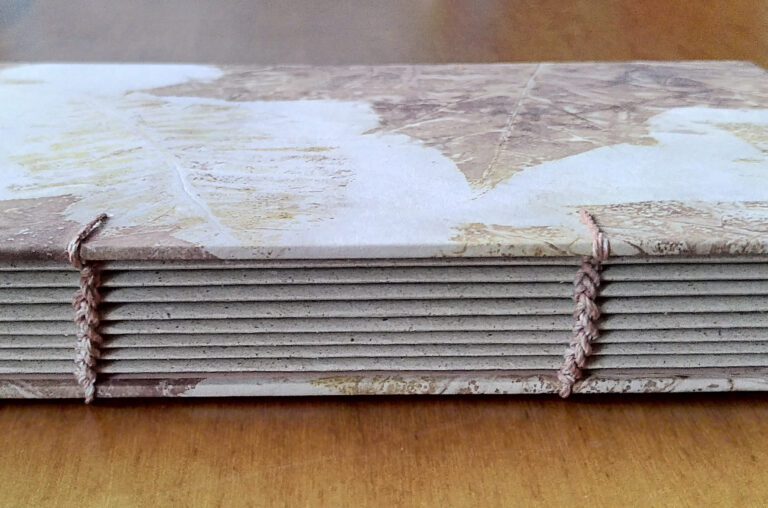 Modul 4: book binding with coptic stich
I will give you an introduction into coptic binding. We punch wholes in all the signatures of grass paper an prepare the silk thread from the printing process by applying bee's wax to it. Then we connect signature by signature and the book covers with the coptic stich.
Meditation and nature inspired creative writing and sharing.
Q&A and future plans.
Enjoy reconnecting to nature, free writing in the group and your creative flow!
TIME:  Mondays and Wednesdays on 19. and 21. July, on 26. and 28. July 2021 – 19.30 – 22.00 hours CET
All classes will be recorded so that you may watch them later, if you cant make it for a particular class.
COSTS:  169 € including materials, tools and handout (regular price)
                       139 € supported ticket (reduced price)
                       199 € supporting ticket (makes a reduced ticket for another person possible)
If you would like to participate but cannot afford it at the moment, you are welcome to write to me: gudrun@l-y-w.art
https://paypal.me/leafyourway?locale.x=de_DE
BONUS: My ecoprint vision card printed on grass paper- with writing prompts for mornings and evenings (in German)
Registration deadline: 18.7.21
spots are limited: first come, first served
For further questions you are welcome to contact: gudrun@l-y-w.art