Botanic print on A3 recyceled artist paper; rose, tree of haeven and pellitory-of-the-wall in onion and pomegranate peel dye, 2020
Botanic print on A3 recyceled artist paper; pellitory-of-the-wall,  tansy, holly and goldenrod in onion and pomegranate peel dye, 2020
Created after a very inspiring community walk with the artist Reinhard Krehl from Georg-Kolbe-Museum to Teufelsberg in Berlin.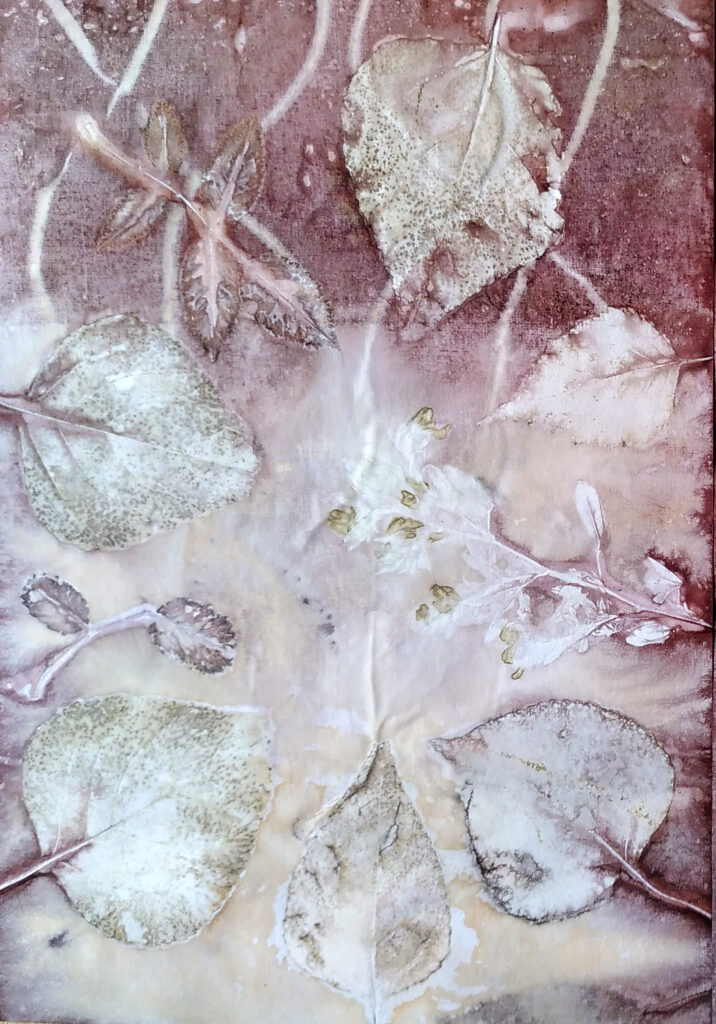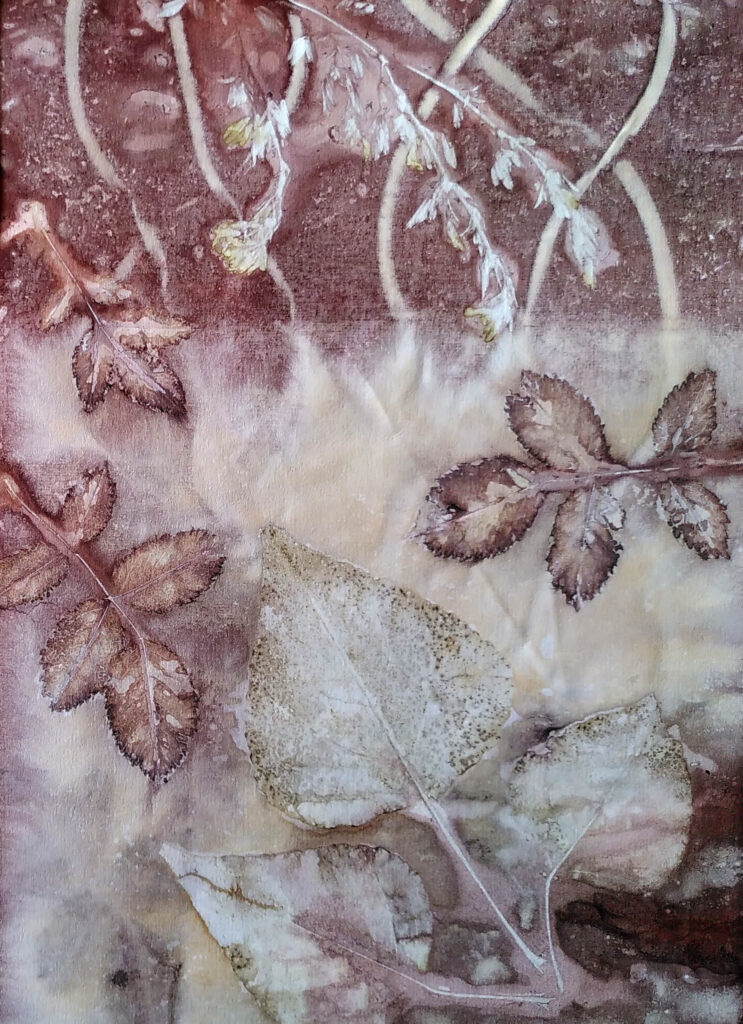 Literary walks On Tempelhofer Feld
On Tempelhofer Feld 1+2 in the exhibition "Footstep on Uoo", botanic print on A4 recycled artist paper, birchtree and rose leaves in avocado peel dye, 2020
botanic print on A3 recyceled artist paper, madder pieces, robinia, plane and rose leaves in avocado peel dye, 2020
Created in relation to the performance of Ariel William Orah and Bilawa Respati of the Berlin based Indonesian art collective Soydivison on the Indonesian day of independence festival at Tempelhofer Feld in Berlin – about the conflicting layers of associations connected to Garuda.
Zwiegespräch am Morgen und Zwiegespräch am Abend
Das Zusammenspiel von gepflanzten und wild gewachsenen Pflanzen auf dem Grab meiner Mutter auf dem Friedhof an der Onkel-Tom-Straße in Zehlendorf. Wir hatten einen Bogen aus Hornveilchen und Mühlenbeckia gepflanzt, später im Zentrum eine verzweigte Sonnenblume.
Bald sind auch noch viele andere Pflanzenschönheiten dort gewachsen, Eichenbäumchen, Hirse und andere Gräser, Ackerwinden mit ihren herzförmigen Blättern…eine Harmonie, die im Leben schwer zu erreichen war.